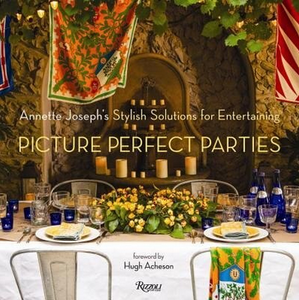 Picture Perfect Parties: Annette Joseph's Stylish Solutions For Entertaining
Annette Joseph, Today Show entertaining expert, knows how to throw a party. Her motto: Make it simple and make it gorgeous! She is able to combine down-to-earth gusto with do-it-yourself brilliance to create an entertaining cookbook for people who want to entertain more and with panache. PICTURE PERFECT PARTIES provides an arsenal of tricks for a year's worth of get-togethers, holidays, and special occasions—including Easter brunch, Cinco de Mayo, summer grill-outs, picnics and barbecues, holiday cocktails, and the Super Bowl— guaranteed to make at-home entertaining easy. Annette Joseph's tasty recipes and fool-proof advice will ensure that you can throw parties with a sense of ease and flair.

Joseph is able to show readers how to ingeniously transform the ordinary into the extraordinary without spending a lot of money, and without sacrificing style. Each chapter of PICTURE PERFECT PARTIES shows how to create a total environment around a unique theme. The recipes and menus are not only delicious, and focused on seasonal ingredients, but are designed so that they can be made in advance and portioned individually—a time-management must for the host or hostess. Among the recipes, you will find some that will become everyday favorites, such as White Bean Farro Soup, Parmesan Crisps, Lemony Risotto, and Tuscan Sweet and Sour Kale. Sidebars sprinkled throughout give step-by-step instructions for the inventive trappings that make an event memorable, such as centerpieces, place cards, takeaway containers, and linens. From simple to lavish, PICTURE PERFECT PARTIES delivers brilliant solutions to create fabulous parties.
Hardcover
Product dimensions:
224 pages, 9.3 X 9.31 X 1.07 in
---
We Also Recommend