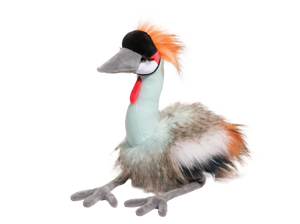 Nia African Crowned Crane
Take part in a boisterous dance with Nia, our African Crowned Crane stuffed animal, and discover this exotic bird's dramatic flair! Featuring a realistic design and sweet, heavily lashed eyes, this gorgeous plush Crane is sure to be a hit with nature lovers of all ages. Nia's body is weighted for lifelike realism while her feathery plumage is depicted with designer plush materials in a variety of colors and exquisite patterns. Her velvety gray legs are long and soft and give Nia an appealingly floppy body style that's easy to pose for display or cuddle up in your arms. It's fun to dream up exciting safari adventures with Nia the colorful plush Crowned Crane!
12" Tall without legs.
---
We Also Recommend