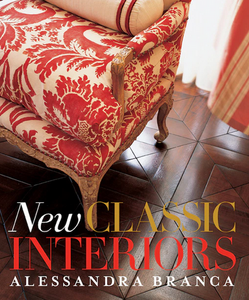 New Classic Interiors
For Alessandra Branca, living means living comfortably. Growing up in Rome, Branca was always surrounded by exquisite art and architecture. She learned early on that beauty is meant to intermingle with everyday life, and to this day her interior designs, while abiding by classical principles, comfortably accommodate her clients'' lifestyles. "You can''t just do something that looks pretty," she says. "It has to work." 
In this book, the designer-based in Chicago-generously reveals her step-by-step creative process, offering invaluable guidance to anyone who wants a home that is both gorgeous and livable. Beginning with her own Chicago townhouse and interweaving insights drawn from several other prominent projects, she shows how she assesses each space''s form and function, selects foundation elements, chooses furniture and lighting, and, finally, incorporates decorative elements that reflect the resident''s personality. Illustrated with 200 lush photographs, the book offers a welcomes introduction to Branca''s enchanting and livable interiors.
Hardcover
Product dimensions:
272 pages, 13.38 X 10.88 X 1.12 in
---
We Also Recommend